Hi everyone!  I'm still working on bringing fall touches to our house.  After mulling over a few different ideas for a fall wreath, I settled on one that I thought would work perfectly with the color scheme I'm trying this year.  And you know what?  I am in LOVE!  I think this might possibly be one of my all-time favorites!
This beauty started life humbly enough, wrapped in a plastic wrapper and tucked away on the bottom shelf of my local Target.
"What?  This wreath isn't made of expensive satin?" you ask.  No sirree, it most certainly is not.  This beauty is made out of a simple plastic tablecloth.  Well, almost two tablecloths actually.  I started with a basic 12″ wire wreath form and two $3 plastic tablecloths.
Then, just like my summer rag wreath, I cut the tablecloth into strips that were roughly 8″ long and 2 1/2″ wide.  Then I tied each strip to the wreath form.  I used a double knot to keep it secure, but I had to make sure I didn't pull to hard.  Since I was working with plastic, if I pulled to hard the strip would tear.
One great movie (okay, maybe two because I took a few breaks) later and I had this gorgeous beauty.
You should see the way it catches the light.  And because it's plastic, it will hold up beautifully under whatever kind of weather Mother Nature sends our way.
The genius behind this wreath, of course, is that it's so easy to re-create.  Although not a traditional fall color, I chose gray because I plan on keeping mine up all though the holiday season.  But, with plastic tablecloths coming in so many colors, there are so many options to choose from.  You could even mix a few different colors… fall colors perhaps.  Now I have your wheels turning, don't I?
I love mine so much, I decided it needed to hang in a spot where I could enjoy it all day.
I'm a little late to the party, but I'm still linking to Rhoda's Fall Door Decor party and Allison's Hookin up with HOH party.  Hope to see ya there!
I'm also linking up here: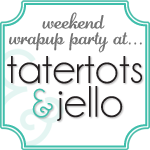 And Beth's Home Stories Tutes & Tips
And here too!!!