Yes, it's that time again.  Time to put away the easy breeziness of summer and cozy up to the warmer colors of fall.  And, as is my tendency, I once again decided to put a bit of tilt on tradition.  Last year my mantel put on the glitz and the glamour.
This year I decided to try a more traditional approach, with a bit of a twist.  Since my wall has the perfect pop of color, I kept the rest of the palette pretty neutral except for some touches of indigo. 
 I am loving this orange/indigo color combo right now.  I'm amazed at how this deep navy really warms up our space.
I played up the gray mirror with a fabulous wreath made from a material that may surprise you (I will share the making of this, my new favorite, later this week so make sure you check back).
More gray on the mantel shows up in the urn filled with some fall grass.  A little indigo and gray velvet spilling over the edge add just the right touch of elegance. 
  White pumpkins (and 1 silver one too) pile high in this sweet garden pot I picked up at one of my favorite local garden centers.  A bit more velvet on this side, a few pine cones, and a handcrafted indigo bowl complete the right side of the mantel.
With the excpetion of a few fake pumpkins in the garden pot, all the pumpkins and gourds came from a roadside farmer just a short drive from home.  I adore these soft, restful, colors.  I think this may be one of my most favorite mantels.
I love the warm, cozy feeling it gives to our family room.
I'm linking this post to Layla's Fall Mantel Party.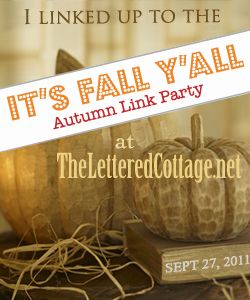 And to Nest of Posies Fall Festival.